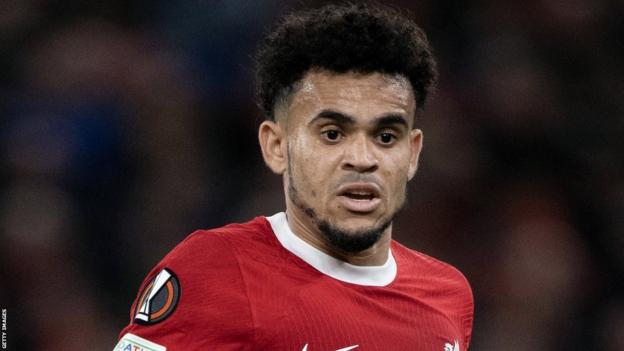 Liverpool say they are "aware of an ongoing situation" involving the family of Luis Diaz after reports his parents had been kidnapped in Colombia.
Liverpool said Diaz's welfare "will continue to be our immediate priority".
"It is our fervent hope that the matter is resolved safely and at the earliest possible opportunity," the club said.
Diaz was left out of Liverpool's matchday squad for Sunday's Premier League game against Nottingham Forest.
Liverpool manager Jurgen Klopp said it was a "worrying situation for all of us".
"We had to obviously make a late change because of the private situation involving Luis Diaz," Klopp said before the match.
Liverpool's players then showed their support for Diaz during the 3-0 win at Anfield, holding up their team-mate's shirt after taking the lead.
Klopp said after the game: "We got the news last night and it's the most difficult I've ever had.
"When you're that long in the business, you think you have experienced everything but it's not about us. It's all about Lucho and his family. We all hope and pray everything will be fine. It was a shock to the system. I didn't know what to talk about in the team meeting."
The Colombian Football Federation also offered support to the forward and his family.
"We express our solidarity with him and his entire family and we call for the relevant authorities to act as quickly as possible to resolve the situation," a statement read.
President Petro gave a news conference on Sunday in which he said the government and police were maintaining contact with Diaz, while the military were also engaged in the operation to recover his father.